Blog
Why You Should Keep a Maintenance Log (FREE DOWNLOADABLE)
We're all busy people with a lot of things on our minds. While we can convince ourselves that our memories won't fail us, it's easier said than done. Remembering is especially important when it comes to our vehicle's maintenance.
Do you remember the last time your car got a tune-up or oil change?
Unlike filling our tank or washer fluid, certain services are done months apart making it harder to remember the last time you went to a mechanic. Plus, with all the other things going on in our lives, these items can go over our heads very easily.
Keeping tabs on the work being done on your car can be really helpful. It can help you prepare for the future and know when your next trip to the shop should be. Additionally, knowing when your next service is due can help you avoid any inconvenient experience and save you a lot of money in the long run too!
An easy solution? Keep a maintenance log in your car.
A maintenance log is a small notebook, pad or sheet where you can record the services being done to your car. Try to get a something small or foldable that can fit in your glove compartment. If you have a notebook, place a pen in the spirals so you always have something to write with. Even if you only have a sheet of paper, make sure you always keep something to write with nearby.
While there are many maintenance log notebooks available for purchase online, we've included a FREE downloadable log for you to print and use. Click here to download.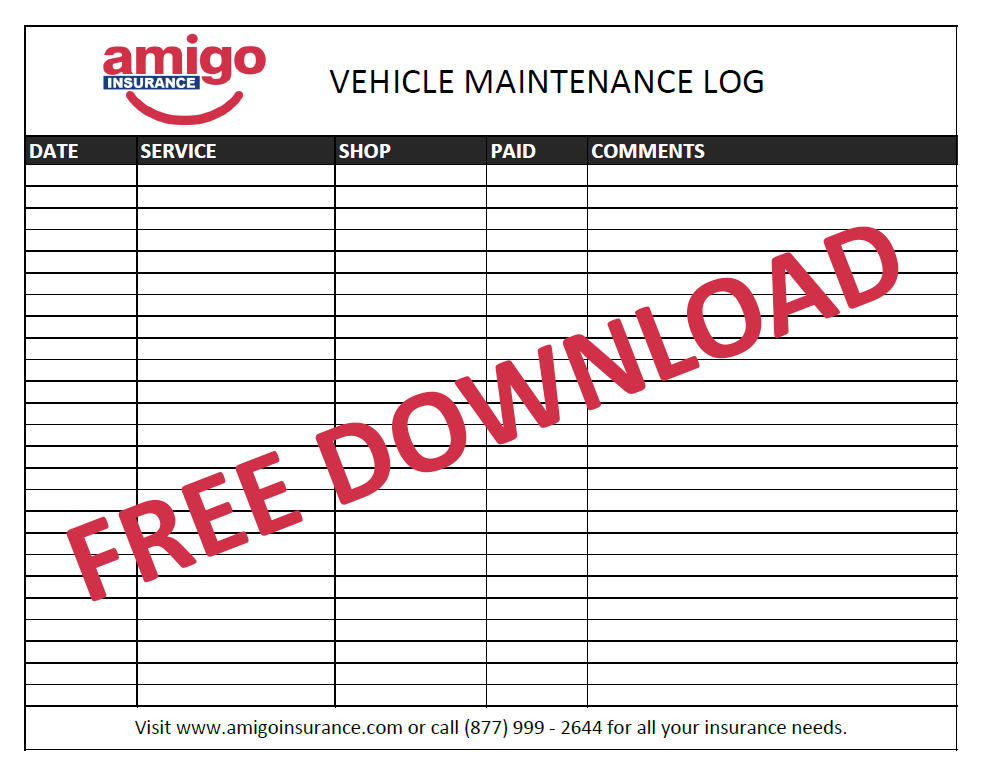 Here's how to fill it out:
Date – Add the date in which you went to get work done.
Service – Write out any service performed that day.
Shop – Write out which mechanic or garage you went to.
Paid – Write how much you paid for a service. TIP: If you decide to try out different mechanics or shops, this column can help you compare prices down the line.
Comments – Write any important comments or reminders. Here is where you should write when your next visit should be.
Example:
| | | | | |
| --- | --- | --- | --- | --- |
| Date | Service | Shop | Paid | Comments |
| 3/21/18 | Oil Change | Amigo Repairs | $30 | Next change at 50,000 miles |
Now that you're ready to get organized, you no longer have to stare blankly at the mechanic when he asks when your last tune-up was.
Signed,
Amigo Insurance